Forrester executive overview - build great mobile apps.
Your guide to implementing a mobile app development strategy
Building mobile apps is different from building websites or traditional client/server applications. You have to change your development processes to be faster and to produce high-quality apps to meet today's high expectations for ease of use and compelling functionality.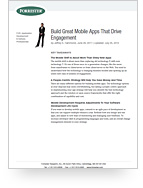 Forrester's mobile app development executive overview will help you understand:
How the mobile shift is changing the art of the possible
How to prioritize your mobile projects
How to build and source a mobile app strategy
Build great mobile apps that drive engagement.