Hit your moving target with Network Sourcing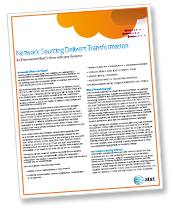 Network Sourcing Delivers Transformation: An Environment that Evolves with your Business
Discover how AT&T's Network Sourcing can help you deliver a dynamic and flexible infrastructure and service set.

Network Transformation Solutions
Find out more about our related solutions to help your business transform its network:

Content Preview
CIOs are faced with the moving target of building a comprehensive IT/networking infrastructure that their organizations can leverage as a platform for future business transformation..
As an organization's goals and requirements fluctuate, so do its underlying IT requirements. Piecing together the required infrastructure (hardware, software, network components, policies and compliance measures) into a secure IT environment capable of evolving becomes an all-consuming job.
Discover how AT&T's Network Sourcing model enables enterprises to improve efficiency, innovate policies and transform business processes. Read how it optimizes their existing foundation and adjusts their infrastructure roadmap to solve current and future challenges.

Explore How Network Transformation Can Benefit Your Business
Enable an Empowered and Distributed Workforce

A distributed workforce is leading to consumerization – the proliferation of personal devices in the workplace. Read how enterprises can best support employees with virtually anytime, anywhere connection to the corporate network and each other, while pursuing the ideals of efficiency and consolidation.

Building the Business Case for IP

Is your network overloaded with growing volumes of data, voice, video and devices? Discover how to ensure you have the tools to meet today's and tomorrow's demands and extend your enterprise reach with an intelligent IP platform.