Managing employee mobility. Are you prepared?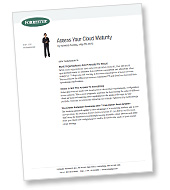 Prepare your strategy for cloud investments
Getting the most out of your cloud investments takes clear planning, measurable objectives and a strategic approach to managing a mix of cloud and internal IT services. Yet, in a recent Forrsights survey many respondents were unprepared for managing cloud investments properly, although they identified them as a high priority for 2012.*
In Assess Your Cloud Maturity, Forrester offers you:
A framework for measuring your readiness for using cloud services
Best practices for evolving the role of internal IT in cloud adoption
Recommendations for leveraging private and public clouds
Steps you can take to achieve your end goal
Don't miss this opportunity to get ready for cloud services now.
*Assess Your Cloud Maturity, Forrester Research, Inc. May 2012.
Assess Your Cloud Maturity
Download your complimentary
market research report.


Explore Further Resources

How to choose the right cloud model for the results you need. [Video]

The Era of the Mobile Cloud has arrived. [Infographic]