A checklist for moving to cloud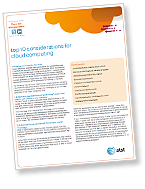 Your guide to cloud computing
As business users push for faster and easier ways to roll out the applications they need, cloud usage is on the rise. As a result, many cloud projects are initiated outside the realm of IT – without the clear requirements or measurable objectives that should govern any IT project.
"Top 10 Considerations for Cloud Computing" provides you with a checklist for taking a more strategic approach to cloud. It can help you:
Determine how cloud computing fits into your overall IT initiatives
Identify applications and workloads to run in the cloud
Prepare for the hybrid cloud trend
So, get your top 10 cloud checklist and plan your path to the cloud.
Top 10 Considerations for Cloud Computing
Download your complimentary
checklist.


Explore Further Resources

Find out how SGH draws on the agility of the AT&T cloud.

Find out why cloud security begins with network security.