Forrester executive overview - build great mobile apps.
Making the Case for BYOD
A well-executed "bring-your-own-device" (BYOD) program can help organizations differentiate themselves from their competition. This Forrester white paper will help you prepare a business case that showcases the key benefits of a BYOD program including: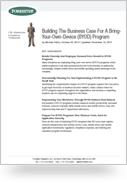 Enhancing worker productivity
Increasing revenues
Reducing corporate-liable mobile devices and mobile services costs
Improving help desk and IT department efficiencies
Solidifying security for corporate data
If you're just beginning to develop your BYOD strategy or already have an established edict in place, this Forrester white paper can serve as a guide or a checkpoint for successful implementation. It outlines BYOD industry usage statistics and contains a list of benefits and costs associated with deploying a BYOD program.
Sign Up to Download
Please complete the fields below to download your complimentary copy of this white paper and to receive further premium content on related topics:
Empower your workforce with BYOD
Thank you for submitting your request to download the complimentary copy of "Building The Business Case For A Bring-Your-Own-Device (BYOD) Program."

Empower your workforce with BYOD
Make plans to capture end-to-end value, enhance employee productivity, improve business processes and more with a BYOD program.